phillip had to work late on thursday, so we weren't able to celebrate his birthday that night. i did buy him an ice cream cake, and decorated it with black icing. he seemed to like it, although late on thursday we weren't really up for ice cream cake: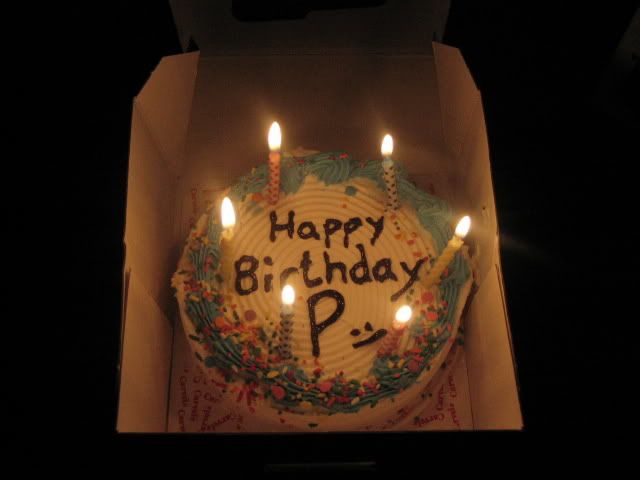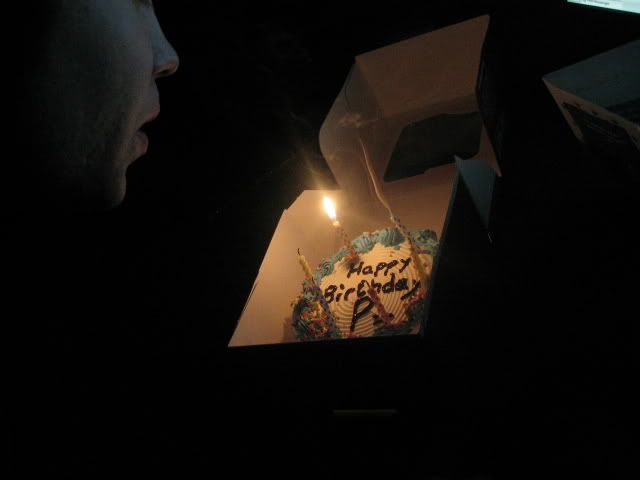 we got to sleep in on friday, which was nice. it's pretty rare when we actually get to sleep in past 9 or 10. we decided that we weren't going to spend the day together, but instead, meet up at 7 so i could take phillip out for his birthday.
i got to his house a little before 7pm. i told him he had to get dressed up, so he had on a tie and he looked so handsome! at 7:30 we got on the bus, and phillip was trying to guess where i was taking him. unfortunately, he guessed, but i don't think he knew what the event was. i had read about the event in the
weekly dig
on wednesday and i thought it would be a good idea. it was called
Chocolate...for a Change
and it was to benefit the leukemia and lymphoma society. it was really interesting. we were able to look at the art (the exhibit was kind of strange...a lot of naked russians in dire, dirty settings. pretty depressing, but interesting), drink chocolate martinis, wine, and beer, and stuff ourselves full of really expensive chocolates. i think my favorite was the pumpkin chocolate tart, which was just like a little pumpkin pie. mmmmm! we stayed for about an hour or so. phillip saw some people from work, since whole foods had a chocolate display. i thought that was pretty cool. when we left there, we weren't really very hungry for dinner. and we weren't allowed to take pictures in the museum, so i snapped two when we got outside.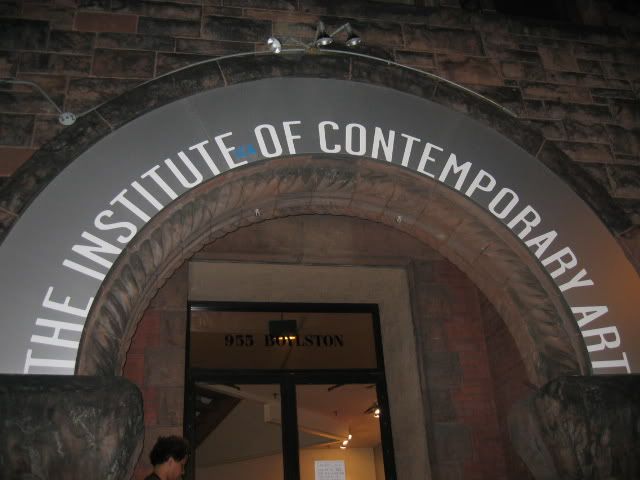 unfortunately, the photo i took of phillip turned out too dark to post:(

we decided to take a walk down boylston street to find some place to get a drink. we went into this place called VOX, but we didn't stay. it just wasn't our type of place. kind of snooty and i thought the people in there were pretentious, especially after i saw one girl whispering to her friend and then point to us. duh. some people suck. so we left and kept walking. we passed by a wine and cigar place and laughed at all the rotund men puffing away on their cigars, sipping dark liquid in big, round glasses. that was fun. we came to a thai restaurant that phillip said he enjoyed. so we went there and got some dinner. i had tofu pad thai and phillip had masama curry. it was pretty good, but after eating all that chocolate, i couldn't finish it. phillip was pretty hungry, which was good.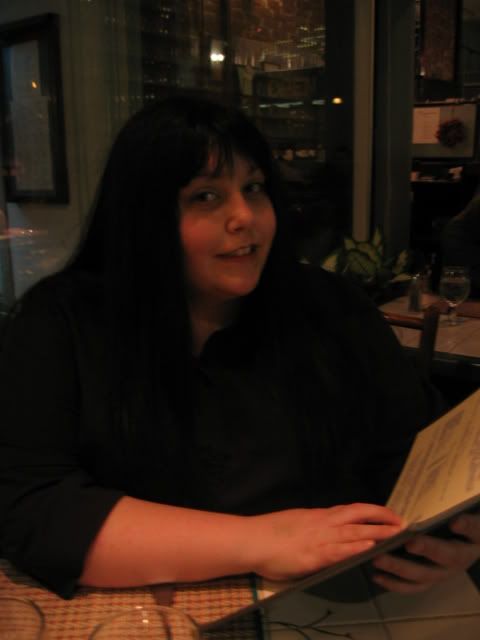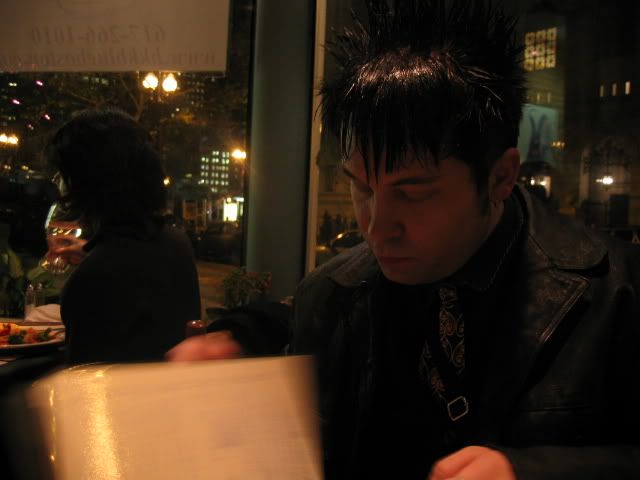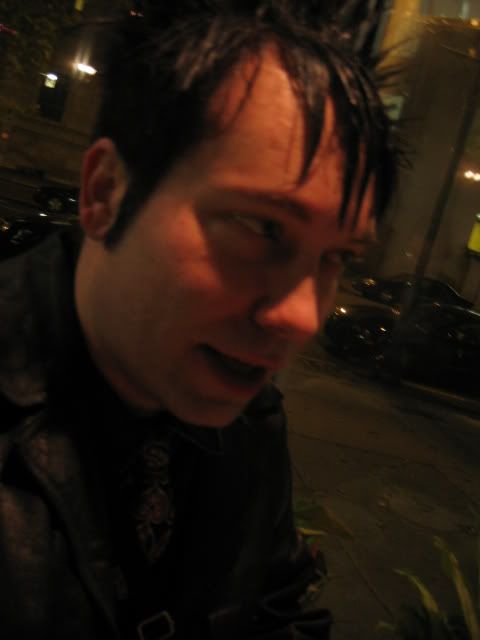 i asked phillip what he'd like to do after dinner, and he said "how about we go to
jacques
?" i thought that was cool because i was thinking about that as well! so we took the train two stops and walked the rest of the way. we got there pretty early, and the show didn't start until 10:30. i took this picture while we waited for things to start. i think it's too cute!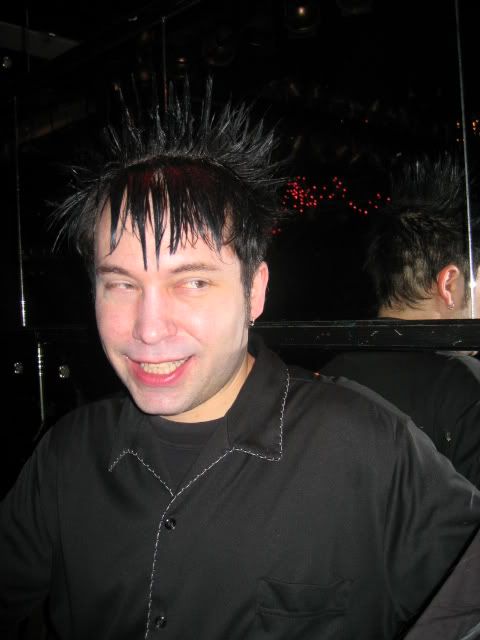 when phillip and i first arrived, two older men were looking me up and down. i think they were trying to figure out if i'm "real" or not. i got a kick out of that! there are many men who go there that you'd think are women. they are gorgeous. but then again, you have your guys who couldn't pass for women no matter what. heheh. these are the guys that i think are so funny. but as long as they are happy and they think they look good, more power to them.
at 10:30 the show started. unfortunately, the performers do the same songs all the time. the only thing that changes are their outfits. i took some OK pictures of the drag queens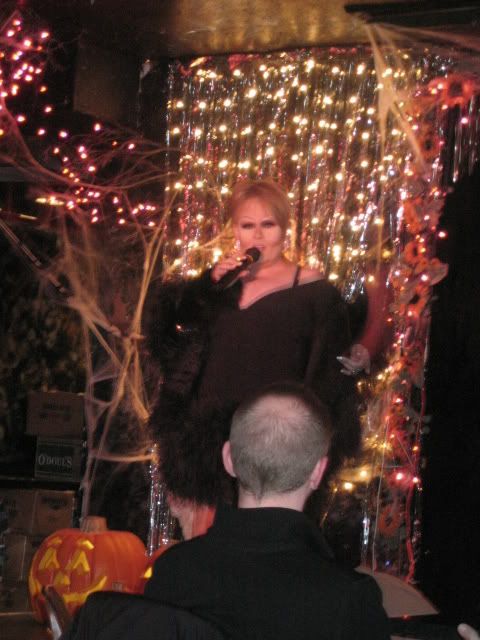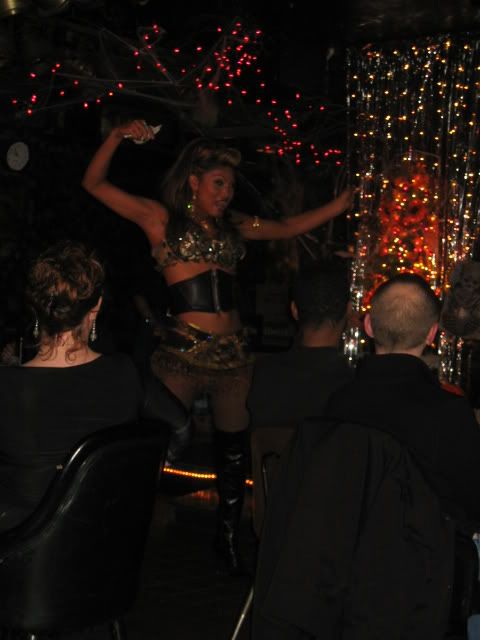 kris knevil is phillip's favorite drag queen. i'm glad i got some good pictures of her! heehee!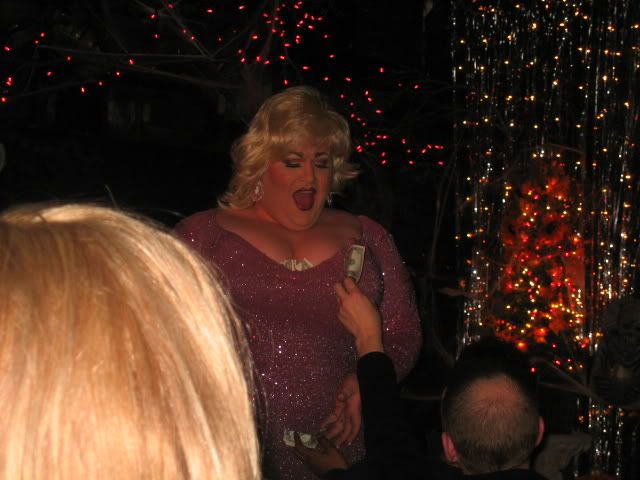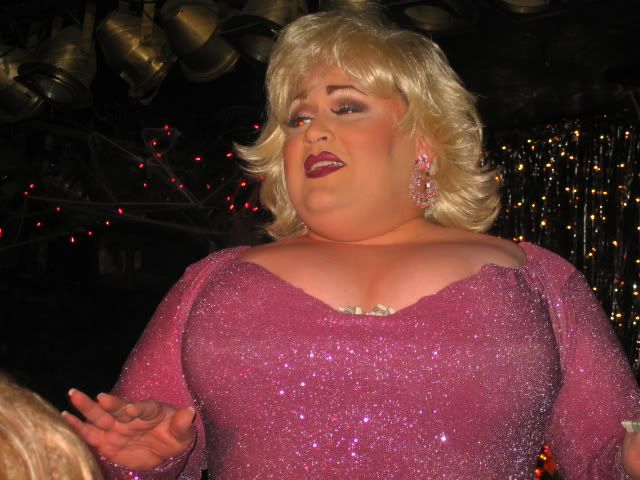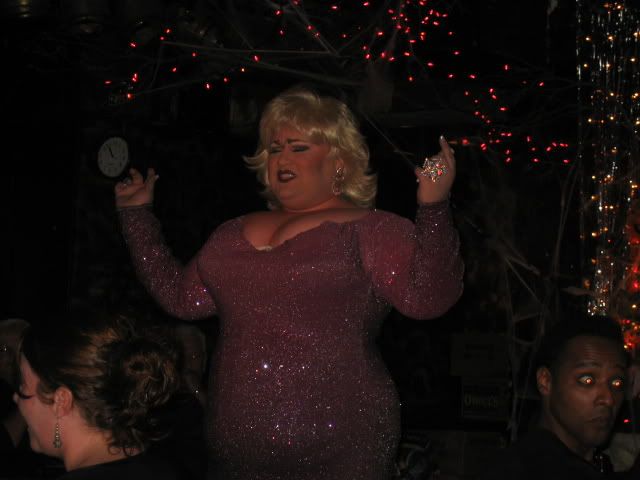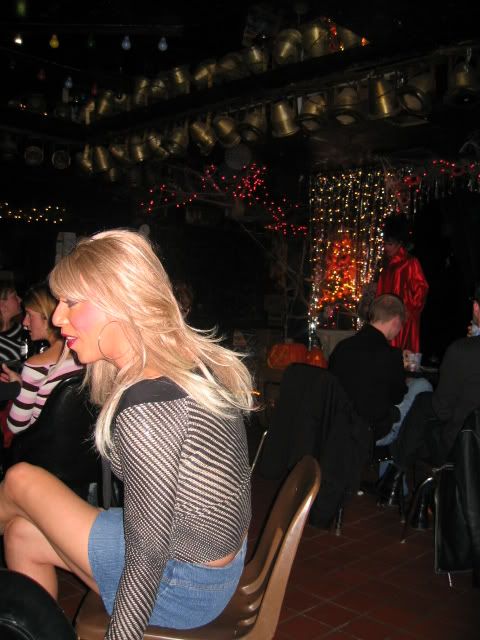 this guy was so funny. he was hitting on this woman's husband and blowing him kisses and stuff. i thought it was pretty funny, because i'm not sure if she was a "working girl" and if the couple knew that. she just sat down at their table, which was kind of funny. heehee.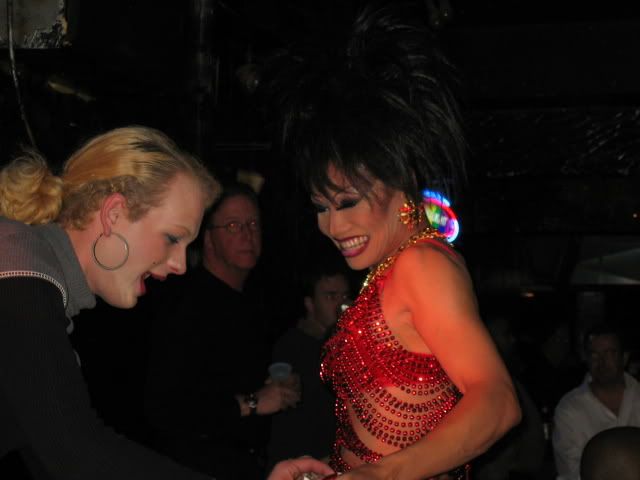 the guy with the blonde hair is one of the drag queens that can't pass as a woman. the one in the red is the professional ;)

we left there a little after 11. if there were new drag queens and new routines maybe we'd stay later, but since it's the same thing every time we go there, it's not as interesting. i mean, we had a good time, but we've already seen the show before.
we took a cab home and i thought i was going to lose my dinner. worst. cabbie. ever! he really knew what the break was, and how hard to stomp down on it. heh. we got home and i had some ice cream cake and phillip ate cheese-its while we watched phillip's favorite show -
blind date
! then we went to bed because i had to be up early for work. i wish we could have slept in together today as well. oh well.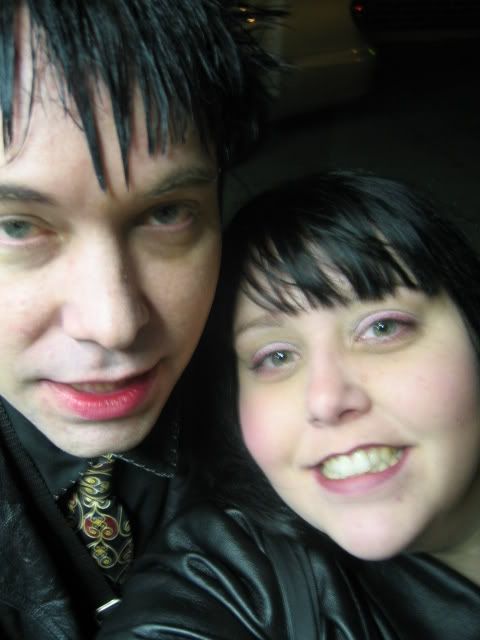 i'm glad i was able to give phillip a nice birthday. he still has to pick out a gift. i'm so happy to be able to celebrate birthdays with him. he's the best boyfriend a girl could ask for ;)
tonight is a big house party in brighton where our friend wes and his band
the drags
and a bunch of other bands are playing. we went last year and it was a lot of fun. i'm sure it will be a blast this year too. of course, we'll take photos!