i'd just like to say (again) that i'm not happy that it's snowing this early in the season. it's only november 13. if it were december 13, i could handle it. what happened to autumn? that's what i want to know.
the past two days were a lot of fun with p. on thursday we met up at about 11, watched the daily show, blind date, and some other random tv shows and then went to bed. we slept well that night. so well that we didn't get up till 11:30 on friday morning. i miss sleeping in. especially with my cuddly boyfriend. so we got up, showered and got ready to go to the movies. we saw
i ♥ huckabees
at the fenway theater. i really liked it, but p thought it was a little too "pointy headed" for him. side note: when he said "pointy headed", he put his two index fingers together in an inverted "V" shape. do you know how totally cute this was? well, it was totally cute and it made me smile.
after the movie, we went home and took a nap. it was a special nap that only adults basking in their days off together can take. it was nice. ;) phillip let me sleep a few hours, and when he woke me up it was time to watch the daily show repeat on the comedy central. i can see an episode 100 times and still laugh my ass off. phillip thinks it's funny.
at 7:30 we walked to the huntington theater. phillip's work reserves tickets to the plays that are put on there. so phillip asked for two. the play we saw was called
"burn this"
. we enjoyed it a lot. here's the discription from the website:
Passion can strike at any time. And when two violently opposed individuals are involved, the results can be tumultuous. Anna, a dancer who is mourning the loss of her dance partner Robbie, encounters Robbie's brother Pale when he bursts into her loft in the middle of the night to retrieve his brother's belongings. Dangerous, sexy, raw, and demanding, Pale interrupts the course of Anna's calm existence and leads her into an explosive encounter from which there is no turning back in this modern classic.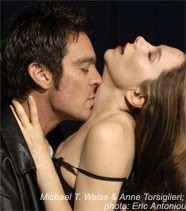 michael weiss was one of the main characters in it. he was in the show
the pretender
, which i never watched. he was pretty good, but his goombah accent was kind of annoying, although i know that's what the character called for. and it was kind of cool to be only 15 feet away from him on the stage. i think that's what i like about seeing plays. the actors are so close (unless you've got crap seats, of course!) nat deWolf who played larry was hysterical. so. totally. gay! i loved it. he was so funny. there was a scene where a serious fight was happening, but it was so fake that i laughed outloud. i couldn't help it. it just looked silly. but overall, i really liked the play. i love seeing free plays there. i have phillip's work to thank for that :)
after the play we went to UNOs for dinner. we had the yummy four cheese pesto pizza and the oreo cheesecake. i was stuffed when we left there. it was freezing and cold on our walk home, but it was nice to walk with phillip. we got home at around midnight and went to bed almost right away. i fell asleep pretty fast, but of course phillip stayed up and played on the computer. when he came to bed he was freezing! i warmed him up good and then fell back to sleep.
i was not happy this morning, having to trudge to work in the 3 inches of snow and slush we have out there. ugh. my feet are cold and wet and that makes me grumpy. the good thing is that no one is here so i can walk around barefoot so my shoes and socks dry before i leave here at 4. i will see phillip again tonight for dinner and possibly a movie (if our original plans fall through). i hope the day goes by fast. i'm bored and sleepy. the coffee hasn't kicked in yet...