my bus ride to phillip's house was horrific. i think i encountered the second worst bus driver in the city of boston. he would drive about 50mph for two blocks, and then slam on the breaks to pick up/drop off people. i felt so bad for the little old lady sitting in the front seat. she was getting tossed around like laundry in a dryer. i was so happy when i got to kenmore square, just so i could get off the bus.
the walk was nice, since there was no baseball game. it was a little chilly, but i was wearing a jacket. i decided not to bring my laptop with me, since it's so heavy and bulky. i decided that i'd just get up and go home sunday morning so i could shower, dress and then take the bus from my house. sunday's are so difficult when it comes to commuting to work. anyway, i digress...
when i got to phillip's house, he answered the door looking SO handsome. i said "what's the occasion?" and he said "i just wanted to get dressed up for you." awwww! i thought that was so sweet!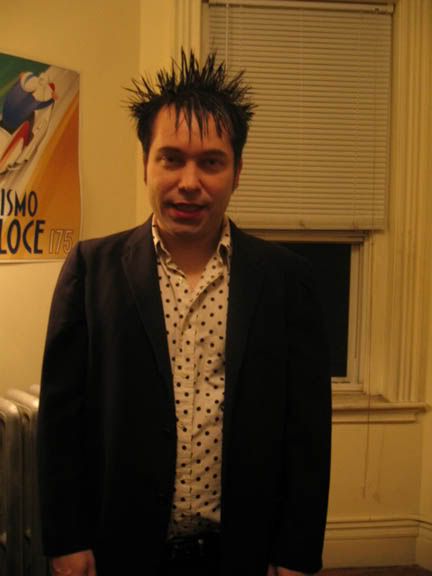 we chatted for a while. i told him about my day at work, and he told me about his day off. he was able to get a new tube for his tire, so now his bike is all fixed. i'm glad he found that he's able to get stuff for his bike at REI at the landmark center. that will save him time in the future.
before we left for the movie, phillip said "i got you something." actually, he made me this cute little drawing on the back of some adorable halloween stickers. is there anything better than a hand made gift from your lovely boyfriend? i didn't think so!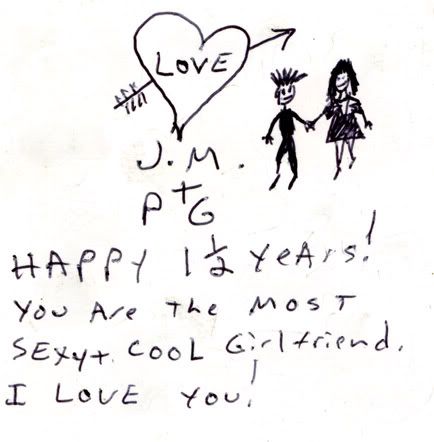 i love it when he draws pictures of us. it makes me giggle!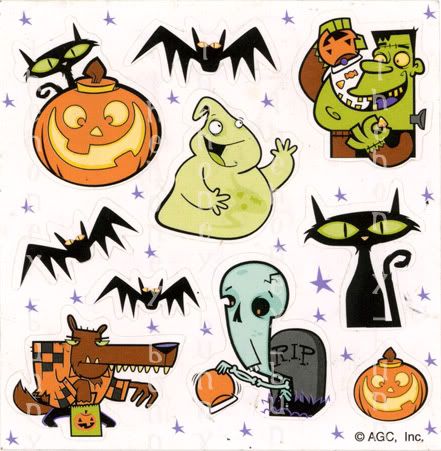 here are the stickers he gave me. he knows i love the halloween stuff!

we walked down to the theater, and there were tons of people standing out side. so we decided it would be best if we got our tickets before dinner, just in case it gets filled up.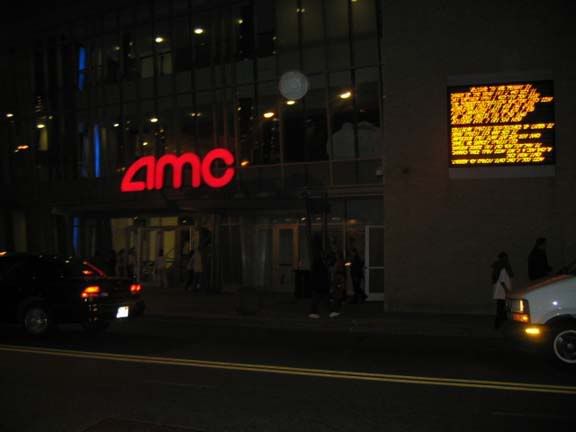 phillip said "i don't think there will be many people who will see this movie." i said we should get them just in case.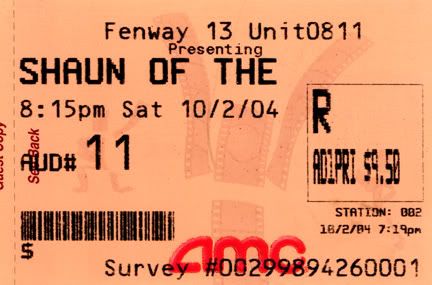 shaun of the dead!
so we got our tickets and walked over to the longhorn where we planned on having dinner. the place was packed with people, too. we found out there would be a 35 minute wait, so we decided to go to 109 brookline down the street. we ordered right away, but it took forever to get our food. i had steak tips and phillip had his favorite buffalo fingers. i don't know how he handles that spice! i had a bite and it was way to hot for me. even with a lot of bleu cheese dressing.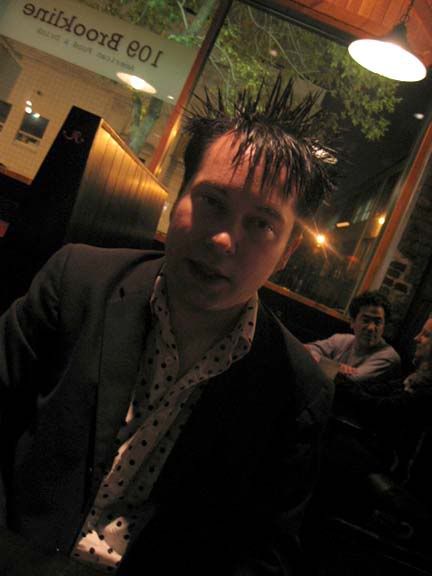 it's so dark in there, you can barely see what you're eating, let alone who you're eating with!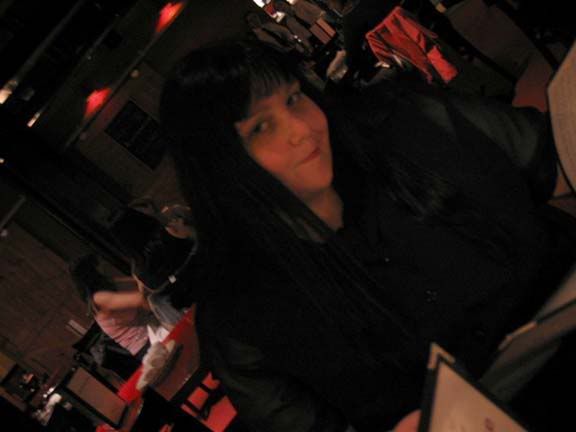 phillip likes this picture of me. i think i look weird.

we ate our food really fast and got to the theater at five-after-eight. like i thought, the theater was already filled up. thankfully we found seats in the back. i think both of us can safely say that we hate people who 1) talk during the movie
or
shout things out during the movie. we were unfortunate enough to sit by both. the guy next to me kept making lame comments through the entire thing, and at one point i was going to ask him if he could please shut up. anyway, the movie was great. i thought it was hysterical. and even though it was bloody and kind of gory in places, it was funny at the same time. i was laughing through most of it. phillip, of course, never laughs. well, he does, but "on the inside". i swear that i'm going to get him rolling on the floor laughing one of these days!
we talked about the movie on the walk home. phillip liked it, but said it wasn't as good as people were making it out to be. since i didn't read any reviews beforehand, i didn't go into it expecting anything. maybe that's why i liked it more. or maybe it's because phillip is jaded ;) just teasing, of course. i was happy to see two actors who were in
the office.
dawn and tim, although i don't remember their names in
shaun of the dead
. i guess they are making an american version of that show. it won't be half as good as the british version. no american can play gareth like mackenzie crook. but that's just my opinion.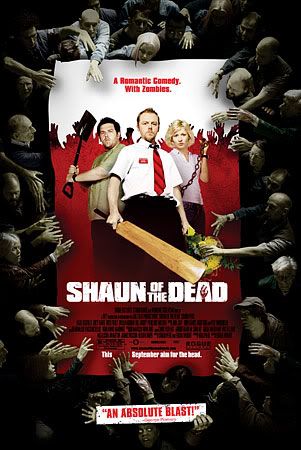 we went to bed really early last night. i was very tired. i had to be up at 6:20 this morning, in order to walk to the bus and make it home by 7:00. it was really cold this morning, since the sun hadn't really come up yet. when i was walking to the bus station, i took a picture of the citgo sign. i wonder what time the lights shut off. i was able to take a picture of it with the lights still lit. it was
that
early! i have to be at work till 6pm. it's going to be a long day.