yesterday i got
my
new little toy. it's an innovage mini digital camera. it's teeny tiny and fits on my keychain.
i bought it at
overstock.com
and it was only $25. it's the cutest little thing ever. it runs on one AAA battery and comes with the software and mini USB cable needed to download the photos. The only problem is that you can't see through the little viewfinder at all. plus, the battery is already dead and i only took like 5 pictures. the cool thing though is that you can use it as a webcam
and
it takes a few seconds of video. of course, it's only like 1 megapixel, but for $25, how can you beat that?
here are two pictures i took last night. not bad for being in an almost totally dark room. yeah, i know i look icky, especially with my glasses on. p looks cute as usual though. he's watching some 80's revival show on the VH-1 :)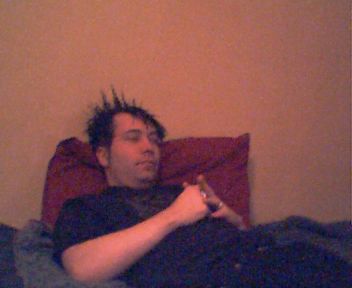 i've been snapping random pictures here at work. mostly of unsuspecting co-workers and scientists. heehee. i can't wait to see how they turn out.
for your pleasure:
made you think
caution: the link is hysterical, but not for those who don't like poop. proceed at your own risk. semi work safe.