phillip and i woke up at about 10am, and his mom and don were already awake. she made phillip some tea and me some yummy cappucino. we had blueberry bread and banana/chocolate bread for breakfast. it was so good. i love home made goodies.
i let phillip pet sophie, but he had to make sure that he washed his hands right after. i'm seriously
that
allergic. she's such a beautiful cat though. mimi has had her for 15 years. i wanted to pick her up and snuggle with her, but i knew that if i did that i would be at the ER faster than you can say "ER".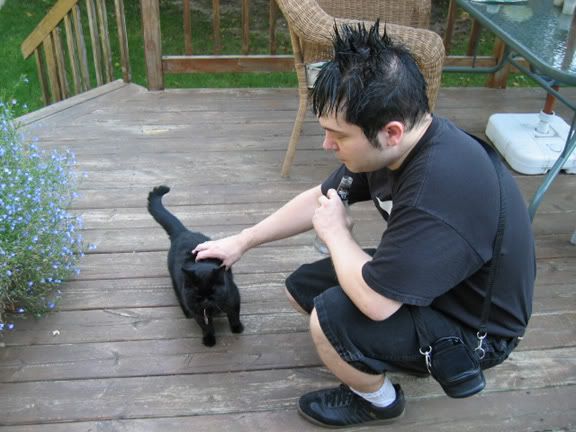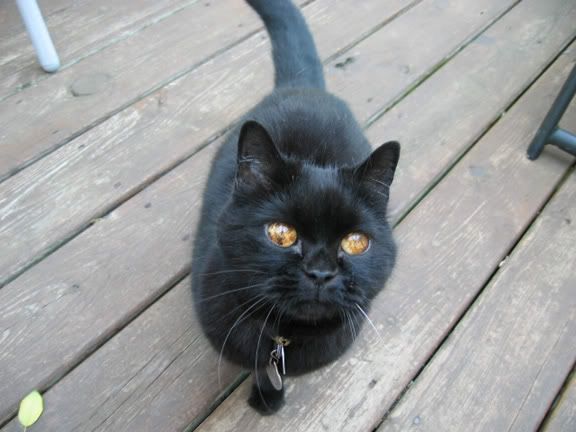 phillip and i talked and decided we would take a walk downtown to check things out. he told me that river falls was pretty small, but believe it or not, it's larger than the town where i grew up. we make our way down to main street, passing this neat bridge that crosses a river. i'm not sure which one it was, but i know it wasn't the mississippi. that's another cool thing...i'd never seen the mississippi river in my life, but i got to see it on this trip.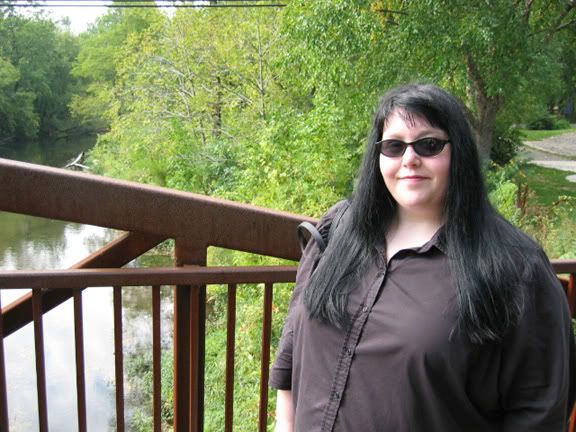 when we were down town, we peeked into a bunch of bars and made mental notes of which ones we wanted to check out while we were there. don had told us which ones were "dangerous" and which ones we should stay out of. of course, those were the ones that phillip and i would go to first. we're rebels, i tell ya! we walked up and down main street, and phillip let me go into this cute little store that sold hand made candles and crafts. he also let me go to the craft store (*gasp!*). i didn't buy anything, but it was nice to look around.
we made our way back to phillip's mom's house, and on the way we got lost. but it was a nice walk, even though i was wearing bad shoes for the walk. there are huge mushrooms that grow on the lawns out there. we saw a ton of them

we were able to take a little nap before lisa, brent's wife came to pick us up. (brent is phillip's older brother, if i haven't mentioned that before.) she is really sweet and easy to talk to. we got a tour of their house and watched a little TV before heading to the
ellsworth creamery
. they were making cheese curds as we stood there. i was able to pick up a post card of the creamery to have a souvenir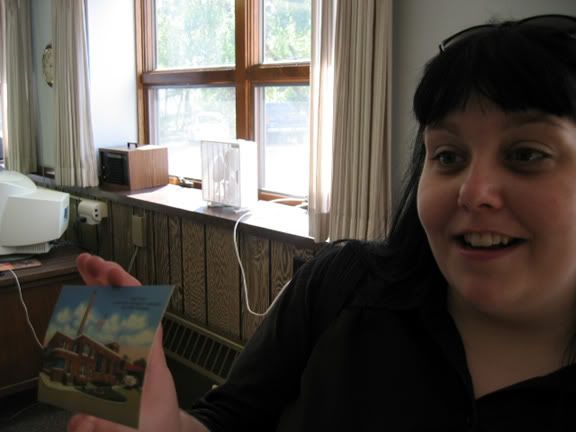 lisa checks out the diary case and grabs a ton if cheese. there's so much to choose from!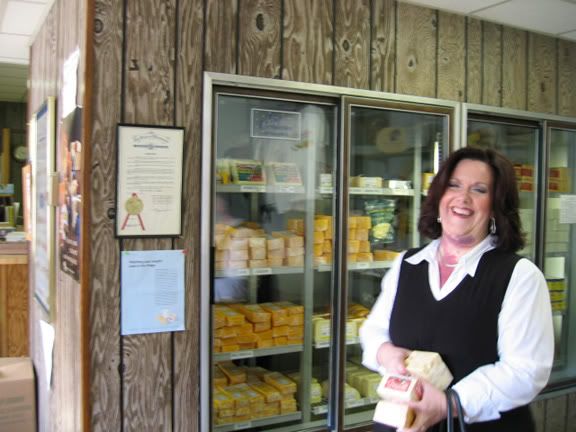 i was in cheese heaven. i was asking phillip if he had to know any of these cheeses at his work. sadly, he doesn't ;)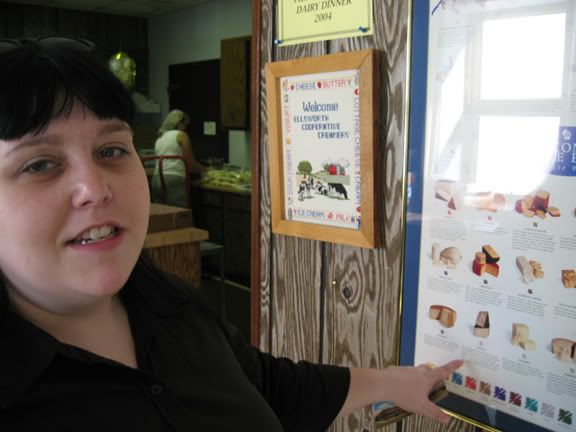 on the way back to lisa and brent's house, they took us for a little drive. it was so peaceful and pretty. there were fields of corn and fields of soy beans as far as you could see. and there were tons of farms all around as well. we drove to a lake near where brent used to live. it was about to start pouring, so we got out real quick and snapped a few photos. i don't know why i was holding my pants up. it wasn't wet or anything.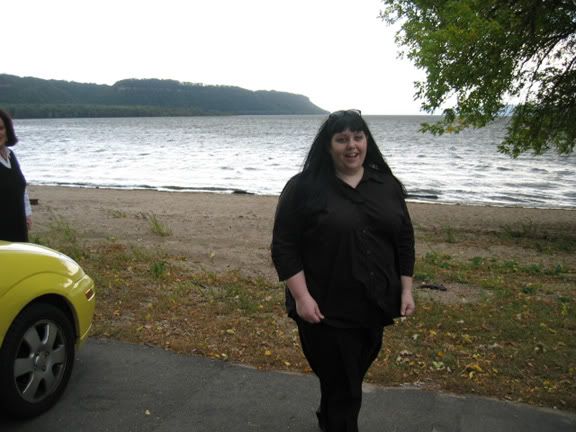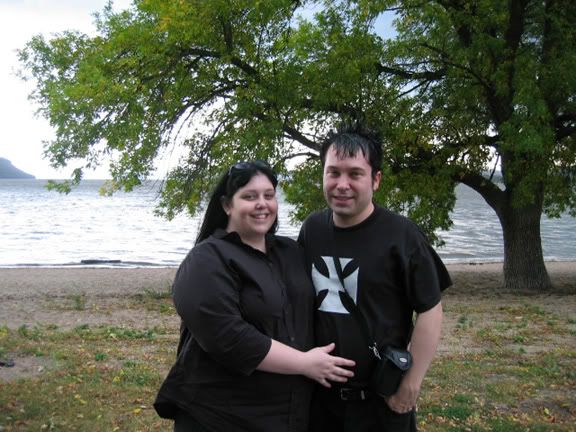 this is one of my favorite pictures of phillip.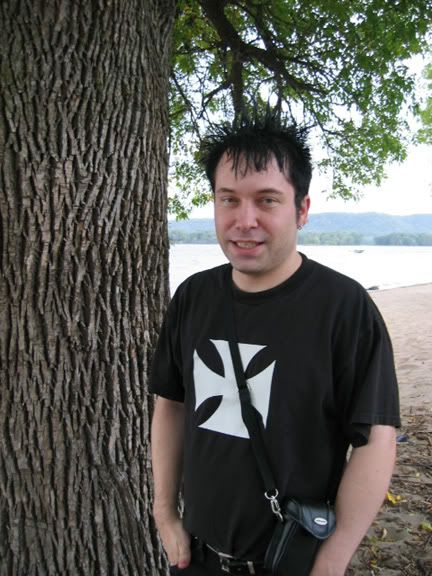 when we got back to lisa and brent's house, we waited for mimi and don to arrive for dinner. phillip snapped this picture as we were going into the house, after the rain had stopped for a bit.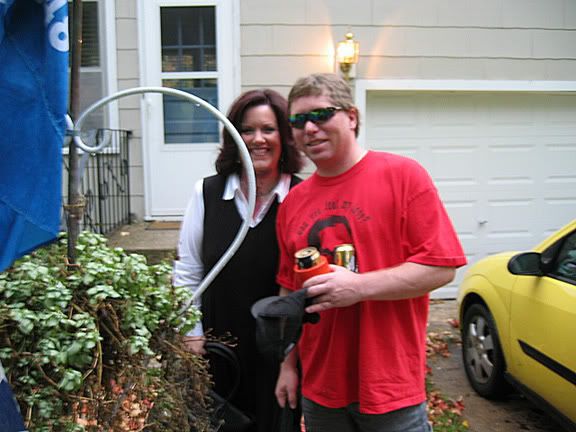 lisa made an awesome dinner of kebabs and this awesome yummy spinach salad with strawberries and a sweet vinegarette dressing. of course, before dinner she made a ton of
fried cheese curds!
those were so good. she used the curds that we had just bought at the creamery. here are some pictures from dinner:

that's don, wearing the harvard t-shirt i bought him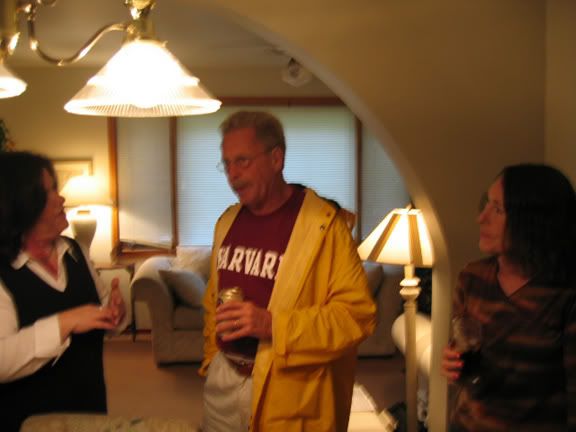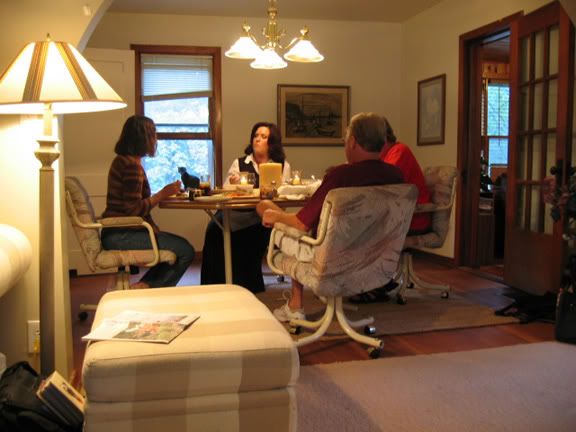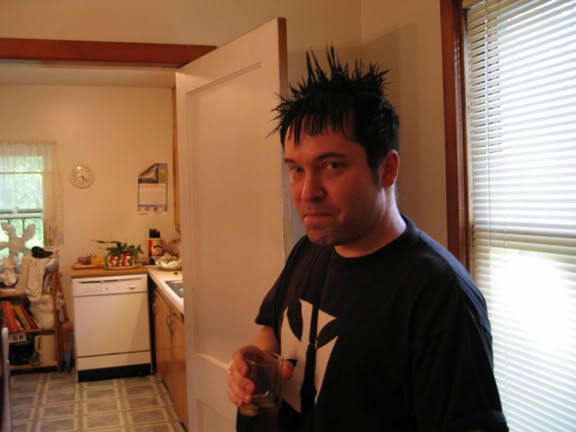 after dinner, mimi wanted to take some pictures of her two sons, since they haven't been together in the same room in a very long time. so i took some good ones. phillipa nd brent are total opposites. and i mean,
polar
opposites.

and i like this picture because phillip looks like he's up to something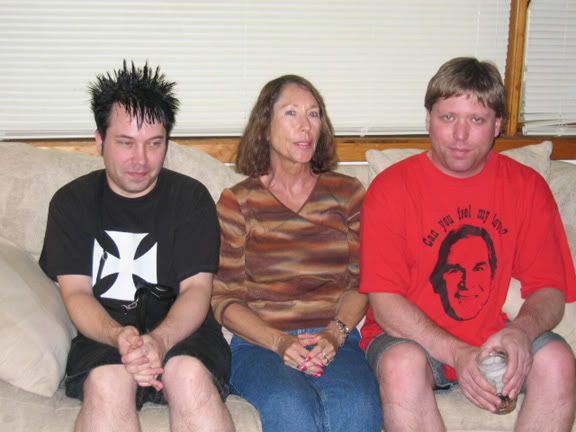 mimi wanted a picture of the four of us, we we took some for her as well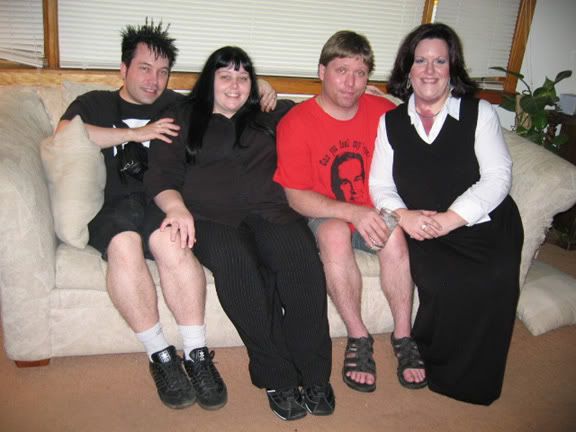 phillip and had everyone watch
survivor
with us. it was fun. we didn't know that mimi and don watched it every week too. we got lisa hooked, and i bet her that she will watch it this thursday. at one point, phillip made a comment about rory being the token black guy on the show, and lisa's son jordan said "what are you talking about?" phillip said "nothing..." and jordan said "well, if it's about sex and stuff, i already know all about that." he then went on to ask phillip about viagra. phillip said "i'll talk to you about that when you get older."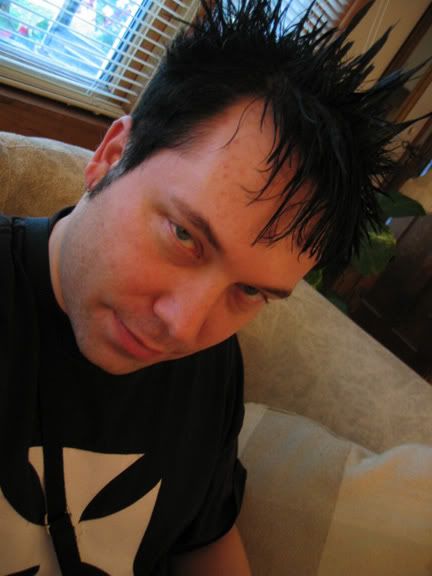 i thought that was the funniest dad-like response i've ever heard out if him. by the way, jordan is in sixth grade. i think he looks like a little michael moore: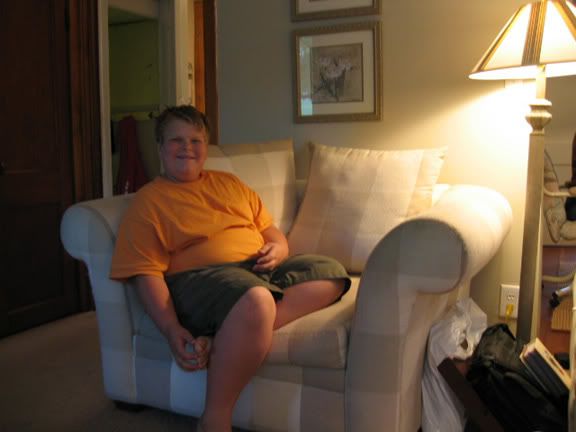 jordan was really upset because their kitty had escaped and he thought he was lost for good. but they found the kitty up in a tree in their back yard. man, i've never seen such a relieved 11 year old.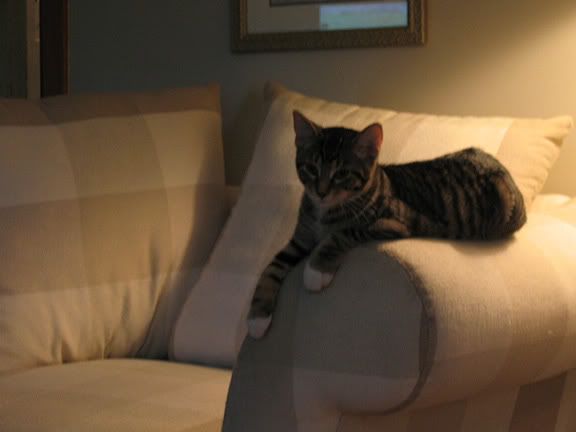 we went back to mimi and don's house and watched some of the red sox game. the ESPN out there cut off the game, so we didn't get to see the final inning. we were pretty bummed out. the sox ended up losing anyway, but i would have liked to see them! we went to bed pretty early, and slept in the next day. sleeping in feels so good. especially next to the one you love!