we woke up to a dreary, rainy day. mimi made us delicious blueberry pancakes. i sure do miss home cooked things. they were so yummy. we drank cappuccino and tea and read the news paper. after breakfast, mimi, phillip and i went to target. i found the cutest halloween plastic glasses. one has pumpkins on it, and one has bats on it. i wanted to take a photo of them, but the batter ran out on the camera. i also got cute halloween stickers and well as a cute top. actually, mimi was generous enough to buy these things for me. she really didn't have to, but i appreciate it.
after target, we went to the home depot. mimi was looking for some things to buy her nephew (i think) for his wedding. i love the home depot. there are so many things to look at and play with. phillip liked how i was playing with the power tools. the home depot is just so much fun. i like the wall paper and paint section the best. i had fun ringing the doorbells too. we found all the stuff that mimi needed, so we went to the check out and then left.
we went to the movies next. we saw
sky captain & the world of tomorrow.
it was cute. not up there on the best movies list, but it was fun. mimi seemed to like it a lot, which is always good. and i thought it was awesome that it was only $5 to get in! you can't find that in boston.
the rest of the day had us lounging around and watching TV. mimi made a yummy dinner of chicken, potatoes, and green beans from her garden. we all sat and ate and talked. it was nice. after dinner, we played scrabble and sadly, mimi kicked my ass. i haven't played it since i was a kid with my grannie. i tried to get phillip to play, but he wasn't interested. oh well. maybe next time.
at about 10:00, phillip and i decided to walk down town and do some bar hopping. we decided to go to a place called "ground zero" first. man, that place totally reminded me of the bars i went to when i was in college. the ratio of men to women was about 10:1, and the women who were there were there to get loaded and hopefully stumble home with one of the guys. there was no cover charge to get in, and the malibu and coke that i got was enormous. seriously, it was in one of those super duper hefty cups: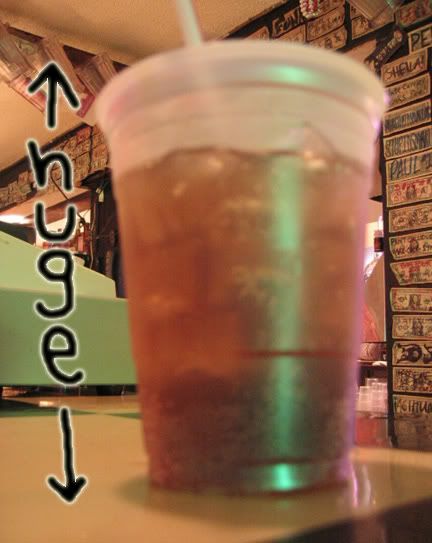 they were playing music that was popular about 4 years ago, and all the guys were singing along. i'm not sure if they thought they looked cool, or if that's the way they do it in the midwest ;) we had to be sneaky when taking pictures of the locals.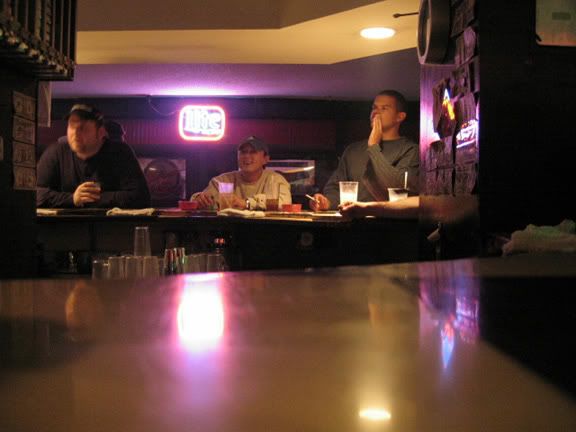 i thought the funniest thing in this bar was not only the fact that the majority of the guys were wearing baseball caps, but that the walls of the bar were lined with dollar bills. on each dollar bill, there was a message written on it. many of them said "SHEILA!" or "PACKERS RULE!", but here's one that upset me. you can't see it all that well, so i added text for you: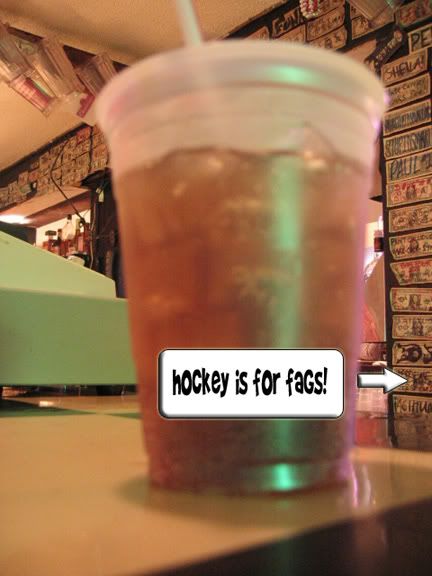 seriously. it says "hockey is for fags". a little ironic, coming from people who live to watch grown men in tight uniforms, bent over with their faces
this close
to another guy's crack, slap each other on the ass when they score a touchdown. because football is probably the most homo-erotic sport out there, second to wrestling. oh the irony!
the next bar we went to was called "bo's and mine". it was more upscale than the other one. we ordered a drink, and this one wasn't as large as the last bar, but just as strong. we took more sneaky pictures.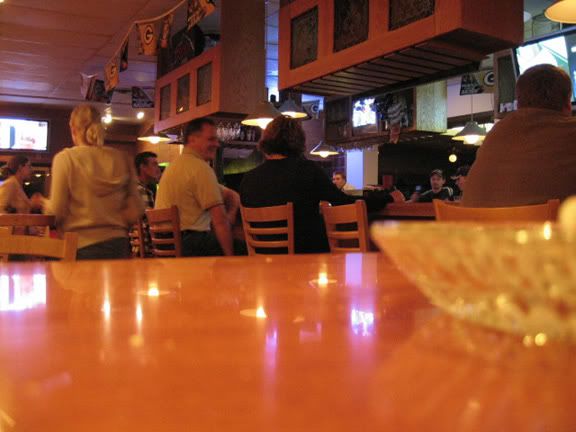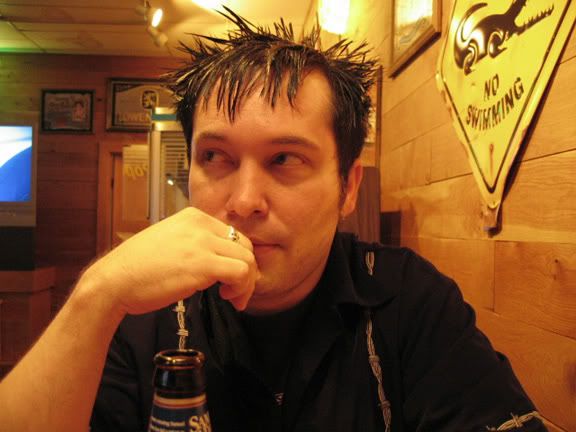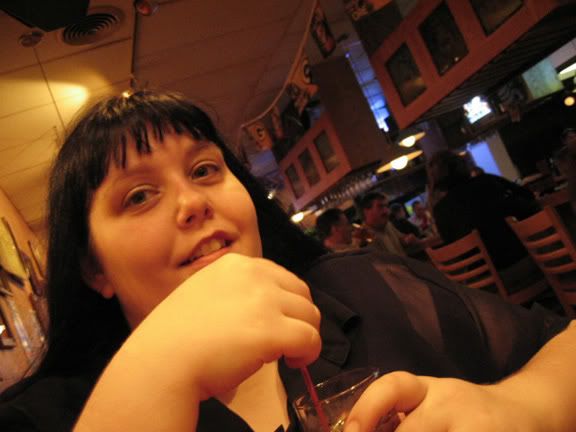 the next bar was called "club kaos". or "klub kaos"...i'm not sure the spelling. anyway, it was a strange place. it was redneck upfront, and hip hop in the back. they were playing def leppard in the front and 50 cent in the back. so bizarre. so we sat and had a drink and took more sneaky photos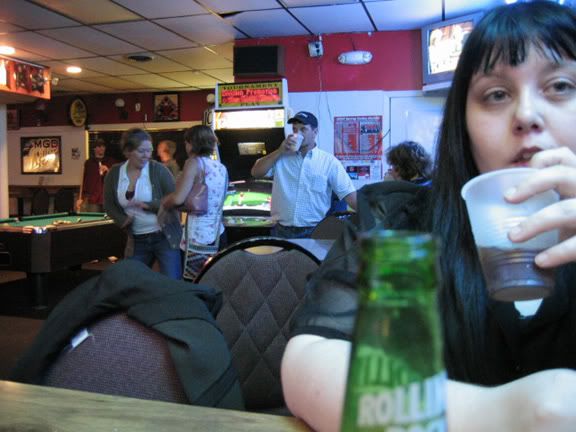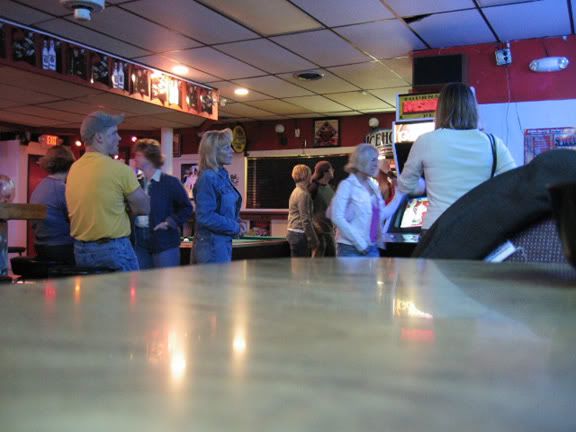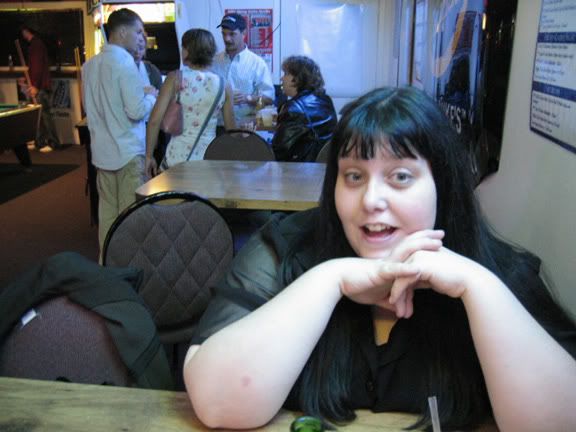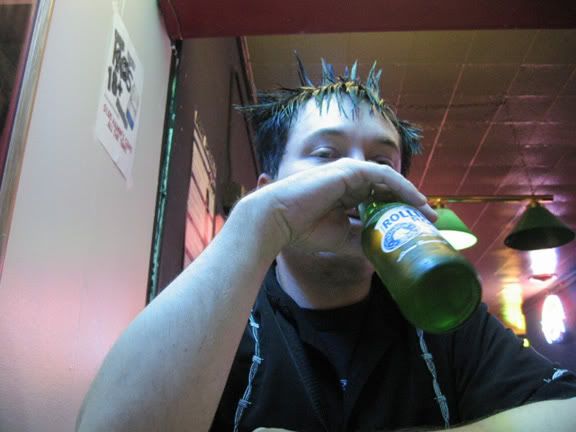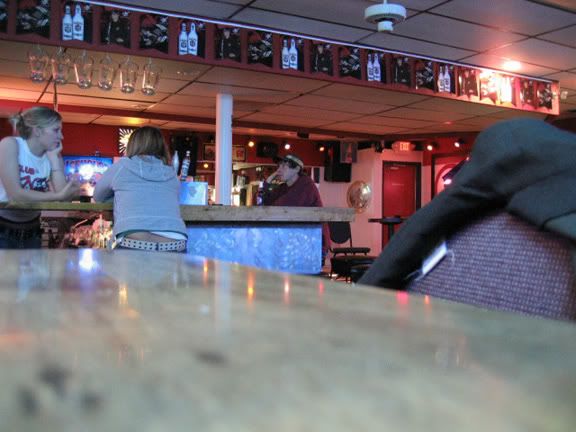 the last bar we stopped at was called "corner saloon". we only stopped in because we heard this bad band covering pearl jam hits. thank god none of these places had a cover charge. we listened to them sing "once" and then left. but we snapped this picture on the way out.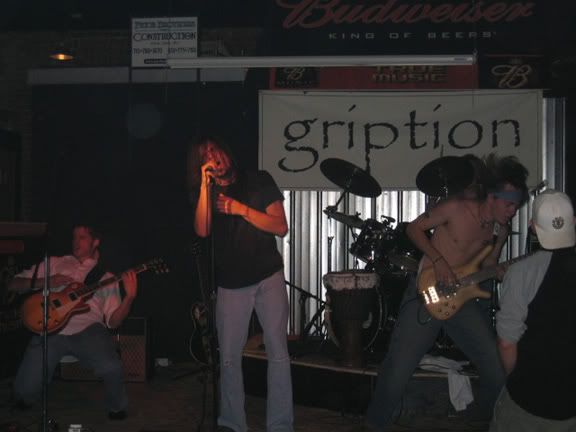 p and i stumbled home. by this time i was pretty drunk. we had 3 drinks each in the course of about an hour. for me, that's a LOT. especially since the drinks were so huge and strong. and the best part of it all? we went donw town with $20 and came home with $1! you couldn't do that in boston. gotta love the cheap drinks and no cover charge. we walked back to mimi's house in the dark. it was fun. phillip and i went to bed almost right away. i slept like a log!