is there anything better than a caramel apple? when i was little, my brother, sister and i used to beg our mom to take us to the fly creek cider mill during columbus day weekend. this was also the weekend that the trees tended to peak in their colors in the catskills. it was also my favorite holiday (after halloween, of course) because i was able to pick apples and pumpkins and play in the leaves. the cider mill was really exciting to me when i was a kid. watching the apples go into this big machine, get crushed, and then it's parts seperated into various foodstuffs. as i got older though, watching the process wasn't as fun as it was when i was a kid. but i did always like walking through the orchards and picking the different apples. i also loved the gift shop next to the mill. they sold hand made gifts by local crafters and they seemed to have the best smelling candles i've ever found. even better than yankee candle! when i was in middle school, i didn't have money to buy any of these things, but as i got older i would save my birthday and christmas money to buy cute crafty things for my room. while at the mills, we would also pick up apple pies, apple cider, apple butter, pumpkins and so much more. i loved going to the cider mill.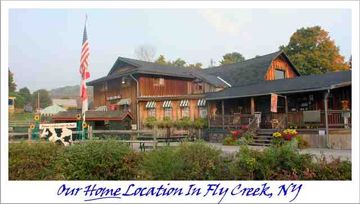 when we got the apples home, we would beg my mom to make caramel apples for dessert. many times, she refused, but once or twice she would agree. in our modern times, you can buy kits that have a flat circle of caramel that you lay over the apple and microwave real quick. back when i was a kid, we actually had to melt the kraft caramel cubes ourselves in a double boiler. being 10, 8, and 5, there was no way my mom was going to let us do that on our own. so she would have us sit and unwrap all the caramel cubes and put them in the pan. of course, we'd eat the caramel cubes and our mom would yell. but after all the caramel was melted, we'd jab the sticks in the apples and watch my mom dip them in the caramel. the three of us could hardly wait till they cooled off to eat them. i can still remember my brother just standing at the table, watching the apples cool off. when they were ready, the three of us would grab one and take a big bite. the funny thing was that after two or three bites, we would lick the caramel off the apples and then leave the apples on the plate. my mom would get so mad, but hey, we were kids!
now that i'm an adult, i don't have the patience to make caramel apples. it's also pointless to make one caramel apple for one person. so today while i was at the grocery store, i bought a half dozen macoun apples (my favorite) and some caramel in a tub. all i have to do is slice some apples, open the tub, and dip the apple slice in it. it's delicious! it's little things like caramel, apples an the smell of the autumn air that makes me happy to be alive!
happy october!