last night was a lot of fun. unfortunately, phillip forgot the camera. he realized it only after we'd gotten to arlington, so it was too late to go back. i have to admit i was a little mad, but i got over it. phillip has been so stressed out about his computer and we were also running around, getting all his equipment loaded into matthew's car, so the camera was not the first thing on his mind. oh well.
the anniversary/halloween party was held at the arlington american legion. it's a really nice place. we got there at about 7 and started setting up. regina bought really pretty light and dark purple tablecloths, and these adorable cat and bat baskets which were filled with candy and placed in the center of each table. i was able to grab a cat one to take home. isn't it so cute?: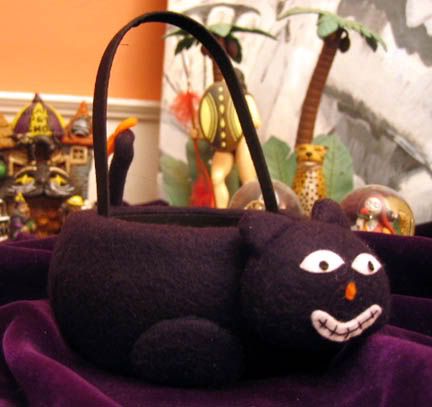 phillip set his huge speakers up as well as his other DJ stuff while i helped decorate the tables. we were all very impressed at how awesome the speakers sounded. we were all finished setting up at 8:00, so we just sat back and waited for the guests to arrive.
people started trickling in at about 9:00 or so. some of the costumes were pretty crazy, but cool at the same time. one couple was JFK and Jackie O. he was complete with a head wound and everything. heehee. someone was dressed as a star wars character, but i'm not sure which one, since i'm anti- star wars. but it was quite a hit. there was another little red riding hood there, but that's ok. her boyfriend/husband was the wolf, which i thought was cute. there were a few cats and a skeleton, but that's all i can remember right now. but the best,
best
costume (in my opinion) was regina's. she had the "goth" version of bjork's swan dress. it was so pretty and looked so nice on her. and of course, matthew looked cute as indiana jones :)
people didn't really start dancing until after matthew and regina had their couples dance and he made an announcement to thank everyone. after people started dancing, the time seemed to fly by, and before we knew it, it was midnight and time to pack everything up. i was amazed at how fast everything was broken down and put away and thrown in the trash. matthew drove us and all of phillip's equipment home and i swear we were home by 12:30! we would have gone to the after party if i didn't have to work so early in the morning. oh well.
so like i said, we don't have any pictures of the party, but we did manage to take these when we got home. for some reason, my skirt was way too big, but i didn't dance or anything so no one noticed, i'm sure. phillip didn't wear his costume at all. he's a pooper ;)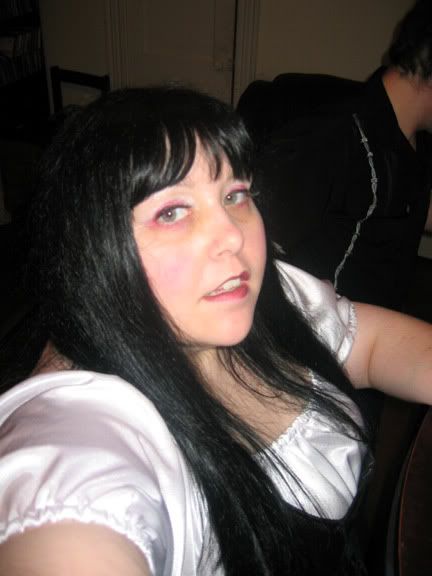 scary self portrait with the flash on!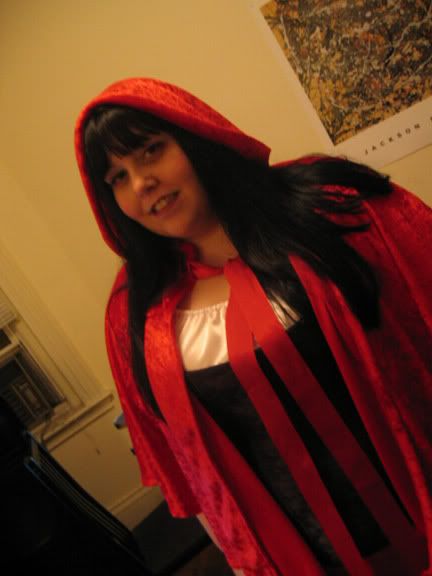 my costume, with the cape made by . thank you!!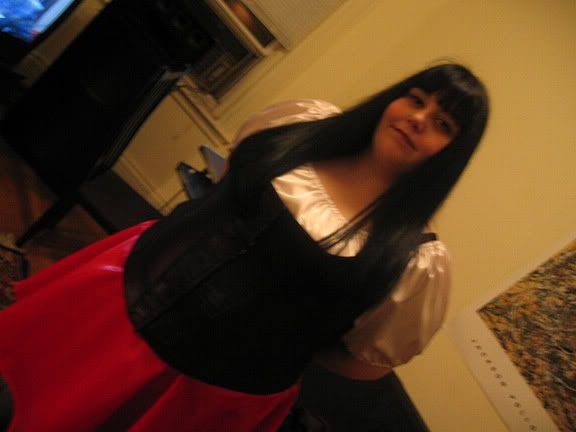 without cape. you can see how my skirt is kind of falling off in this picture. what do you expect? i had been wearing it since 4:30!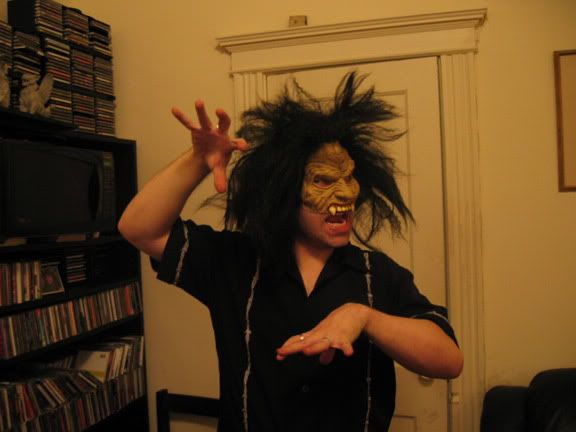 phillip, my lovely boyfriend. i wish he'd worn that during the party, but he didn't :(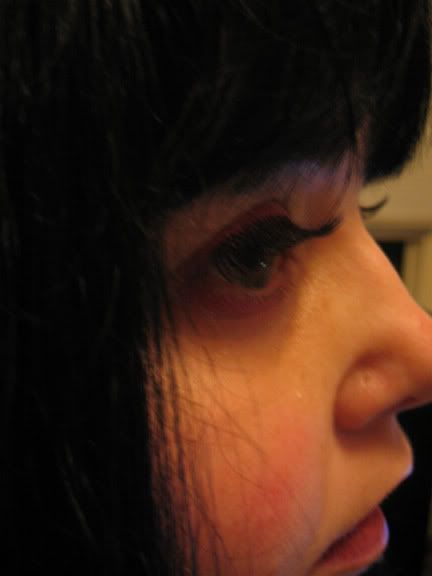 check it out...i even wore long fake eyelashes. phillip said "those are hot". hahah! i guess he liked them a lot ;)



and a very silly picture of the two of us. it makes me giggle!




i wish we had more pictures, but what can you do? there's always next year. hope everyone had a happy halloween!