does anyone remember this cereal?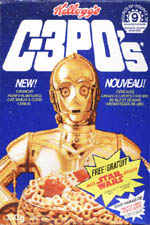 they were my favorite for the short time they were on the market. oh man! sooooooooo good! they were super cruncy and graham flavored. but the weird thing is that they would get soggy real fast for some reason. i remember begging my mom to buy these in bulk because they were so tasty. my brother and sister hated it, which was fine with me.
i hate star wars with a passion. but i sure loved this cereal!